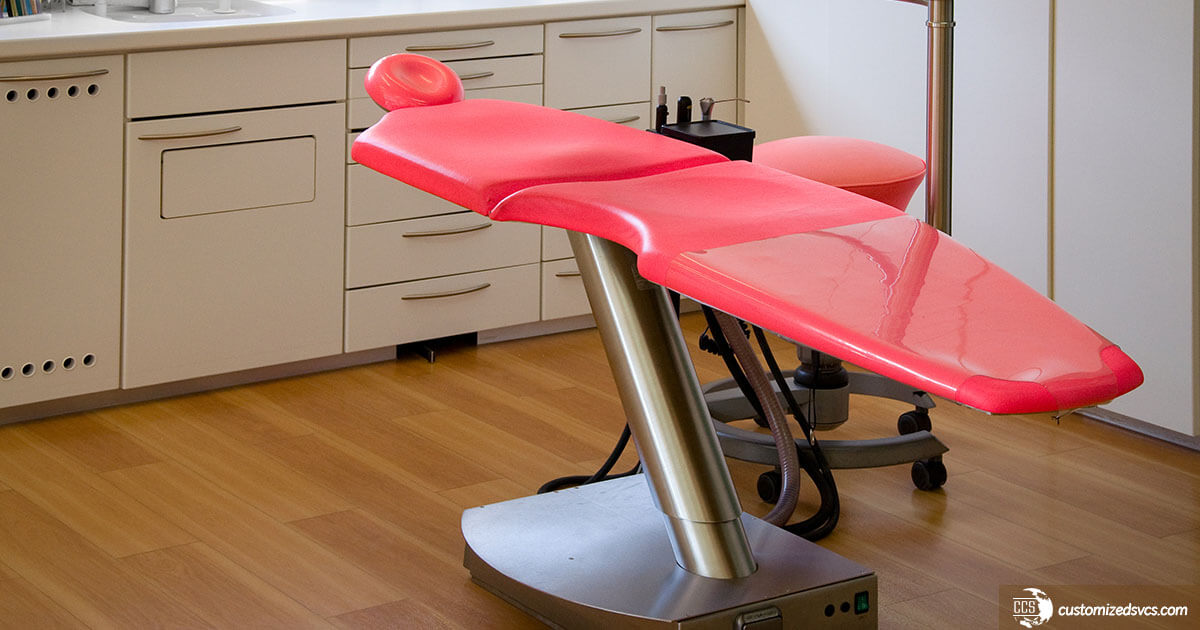 Customized Custodial Services are experts in providing quality medical building cleaning services. We understand the critical need for medical surfaces to be properly cleaned and disinfected. For this reason, only the best hospital grade cleaners and disinfectants are used. Moreover, our cleaning practices are top-notch.
It's vital for patients, visitors and employees that a clean, heathy and safe environment is maintained. Consequently, our medical building cleaning services are employed using a thorough approach.
Due to the imminent risk present in these environments, the ideal service provide should be well-trained. Additionally. the right tools and equipment must be used to meet the specific needs required for medical building cleaning services.
Is Medical Cleaning Different From Commercial Cleaning?
"Clean" is a relative term regarding medical and commercial cleaning. Both environments are unique and require a different approach.
When cleaning commercial buildings, you're dealing with spillages, debris, dirt and possibly grease.
But for cleaning medical facilities there are different types of fluids and elements involved. For example, body fluids and other substances that may contain dangerous pathogens that can cause infections. Here, the goal should be to prevent the spread of infections. And adhere to industry standards for maintaining a clean and safe environment.
If medical building cleaning services are not performed as required, it can be detrimental to the occupants. Not only that, but the facility's health care and reputation could be negatively impacted.
Therefore, our standards at Customized Custodial Services are in accordance with the best practices and procedures established by:
CDC (The Centers for Disease Control and Prevention)
OSHA (Occupational Safety and Health Administration)
HCAHPS (Hospital Consumer Assessment of Healthcare Providers and Systems)
EPA (United States Environmental Protection Agency)
HIPPA (Health Insurance Portability and Accountability)
AORN (The Association of periOperative Registered Nurses)
At Customized Custodial Services, we have solid knowledge of aseptic cleaning. Further, we know the differences between clean, contamination-free and sterile. From disinfectants and detergents to broad spectrum cleaners, we use only top quality, hospital grade cleaning solutions.
Why Hire a Professional Medical Cleaning Company
As previously stated, cleaning medical buildings requires expertise, proper tools and equipment. Reputable medical building cleaning companies use environmentally safe germicides. Also, they have the right supplies. For instance, vacuum cleaners, quaternary disinfectants, and other required products to ensure the building is clean and germ free.
The chemicals used in cleaning medical buildings should be free from toxic acids that can pollute the environment or are allergenic. Here are a few reasons you should consider when deciding on professional medical cleaning.
Qualified medical facility cleaning team familiar with healthcare cleaning regulations
Product quality and appropriate cleaning equipment
Current and relevant medical cleaning procedures
Inspection-ready medical facility
Considerable cost saving
Every medical facility is different and requires customized services to meet their exact needs. Hiring the right medical building cleaning company can help you attain compliance with regulatory bodies. Not to mention, boost patient satisfaction.
Are you in search of trustworthy medical building cleaning services? Look no further. Customized Custodial Services has the expertise, equipment and supplies to keep your facility clean and pathogen free. Please contact us now and share your unique cleaning needs.
You may also enjoy reading: Tackling Mold In The Workplace