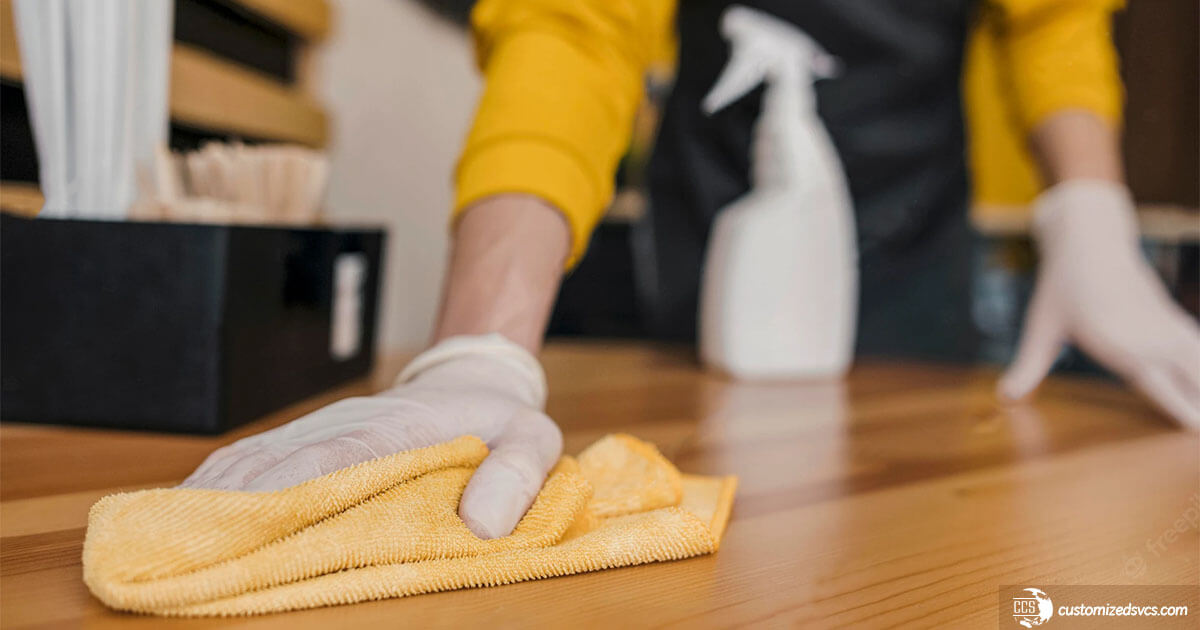 One of our specialities at Customized Custodial Services is providing commercial cleaning service to businesses in Bakersfield. When you own real estate properties you do not want to be bogged down with facility cleaning.
Many of our building maintenance clients have been with us multiple decades. This is because of our consistent quality services. We serve Bakersfield, Kern County and neighboring cities with our building maintenance janitorial services.
Whether your business is big or small, you obviously didn't start it to pursue a career in managing a cleaning crew. Commercial cleaning service in Bakersfield allow business owners to focus on what they do best. That is, running their business. Besides, there are many ways a professional commercial cleaner can benefit your business.
Reliable Commercial Cleaning Service In Bakersfield
Before you start googling "industrial cleaning services near me", let's explore more about working with a janitorial company.
01.

Dependable Service

There are many challenges involved in managing a team of janitors. Besides recruitment and training, there's also payroll and taxes to consider. Not to mention, alternative staff to cover sickness and vacations.

When you hire commercial cleaning services in Bakersfield, they handle everything for you. In addition to creating a schedule and job list, they are responsible for providing the crew. Equally important, your business gets cleaned 365 days a year if needed. You also won't have to worry about inventory as the cleaning company provides all products and equipment.
02.

Commercial Cleaning Service Bakersfield Sets Cleaning Standards

The cleaning and sanitizing of commercial premises have never been so important. Customers and workers need to feel safe in your office. The best way to achieve that is with high-quality commercial cleaning services.

When you hire a team that protected businesses during the pandemic, you know you're getting a knowledgeable crew. In fact, we've been following the CDC guidelines on how to cleaning and disinfection commercial facilities. Not only that, but we know how to safely use EPA-approved cleaning products to eliminate viruses. Your cleaning standards are taken to the next level.

Using our professional cleaning services means using a company that knows how to tackle unexpected situations. For instance, we know the best products and appropriate equipment to use for:
Waste removal>
Window washing>
Hard floor surface cleaning>
Carpet care>
Working with commercial cleaners help to extend the life of carpets and floor surfaces. Not only that, but you also save money by not having to replace them as often.
03.

Wide Range Of Services

Not every business operates just out of an office. Some businesses have mixed-use premises. There may be factory facilities, offices, and retail areas all on the same site! Give that this presents a logistical challenge, you need cleaning services skilled in working in all such environments.

Given these points, industrial cleaning services is the solution. This type of service range from janitorial services to construction site cleaning and everything in between.
04.

Enhance Your Business

Customers are always quick to notice if an office or building is not clean. Consequently, they'll appreciate visiting a clean building that also smells nice. Thus, out-of-hours cleaning ensures that your premises look their best first thing in the morning.
05.

Increase Productivity

An unclean workplace has a negative impact on staff morale. Employees won't look forward to coming to work. And when they do, they probably won't be as productive. Even worse, if there's bacteria and viruses, your staff will be off sick more often. This is bad for their long-term health as well as affecting your bottom line.

Conversely, when the workplace is clean, fresh, staff looks forward to coming into the office. It can help them to perform their best and minimize lost productivity through sickness.

If you need commercial cleaning service in Bakersfield or surrounding area, we've got you covered. Click here to request a quote and facility walkthrough.