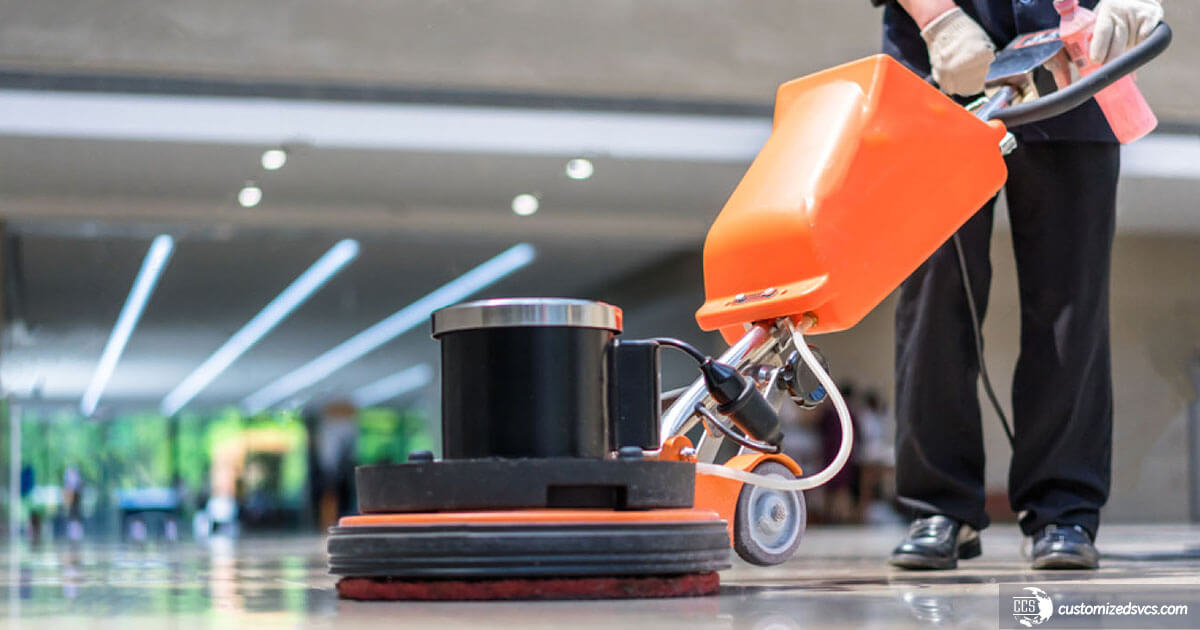 With the mix of harsh conditions, every facility should have a winter floor maintenance plan. Although it doesn't snow here in Southern California, it does in the mountains. Besides, the rain and hail are equally damaging to your floors.
If you don't already have a winter floor maintenance plan, now is the time to get one. Preparing for the wintery effects that come with rain, snow, slush, and ice will protect your floors' surfaces.
Due to harsher weather, winter floor maintenance and care requires more labor and time than other seasons. But with the right preventative care, you can keep your floors looking their best even during winter.
With this in mind, here are 4 ways to protect your floors this winter.
1.

Reseal Hard Floors

Be proactive in protecting your floors against dirty rain water, snow, salt, and other contaminants. An ample amount of finish on the floor will protect the surface.

Before winter began, your floors should have been resealed. However, it's not a good idea to strip and refinish floors during winter. This is because of the increased contaminates that will likely be tracked onto the floors. Also, cold weather can negatively impact how the finish dries. As a result, the cold weather can cause peeling and cracking of the floor finish. This is why proper winter floor maintenance is so important.

But if you missed the opportunity to strip and refinish your floors, doing a scrub and recoat will do the job. In fact, a protective coat will help prevent deep stains in your floor's finish.
2.

Use Mats For Entryways

After you've prepared your floors, protect your carpets and hard floors from outside elements by using entryway mats. In general, using entryway mats, you can remove as much as 85% of soils from shoes. Guests generally take about 8 to 10 steps on the mats before reaching your floors. Thus, greatly reducing the amount of dirt and contaminates that would otherwise reach your floors.

Generally speaking, you'll need about 15 feet of matting outside and an additional 15 feet inside your building. Albeit there are many types of matting to choose from, each serves a unique purpose. So, for entryway mats, make sure it has a scraper and a different mat with a wiper.

Also, scrapper mats are placed outside of your entryway to scrape debris off shoes. Conversely, wiper mats remove remaining soils from shoe bottoms. Using wiper mats ensures the first steps on your floor's surface are dry and clean.

As can be seen from the above points, winter floor maintenance takes extra special care.
3.

Floor Neutralizers Remove and Protect Against Ice Melt Residue

Even with the best entryway mats, ice melt residue is inevitably tracked beyond the entrance of your facility. Obviously, this can be damaging to floors as well as leaving unsightly white residue throughout your building.

And the worst thing to use to clean such resides is regular floor cleaners. Given that the pH balance of the salt residue is high, it requires a floor neutralizer to properly remove it.
4.

Get Your Floors Regularly Cleaned

Regardless if your floors are hard or carpeted, increased maintenance is important to preserve the floors. Maintaining the appearance of your floors will require daily maintenance. Otherwise, dirt and soil that get tracked will become embedded in your flooring surfaces.

The best way to extend carpet life is with a comprehensive commercial cleaning program.

If your facility is located in Bakersfield, California or neighboring cities, experience superior floor maintenance and care from our team. Get in touch today for a free quote and facility walkthrough.