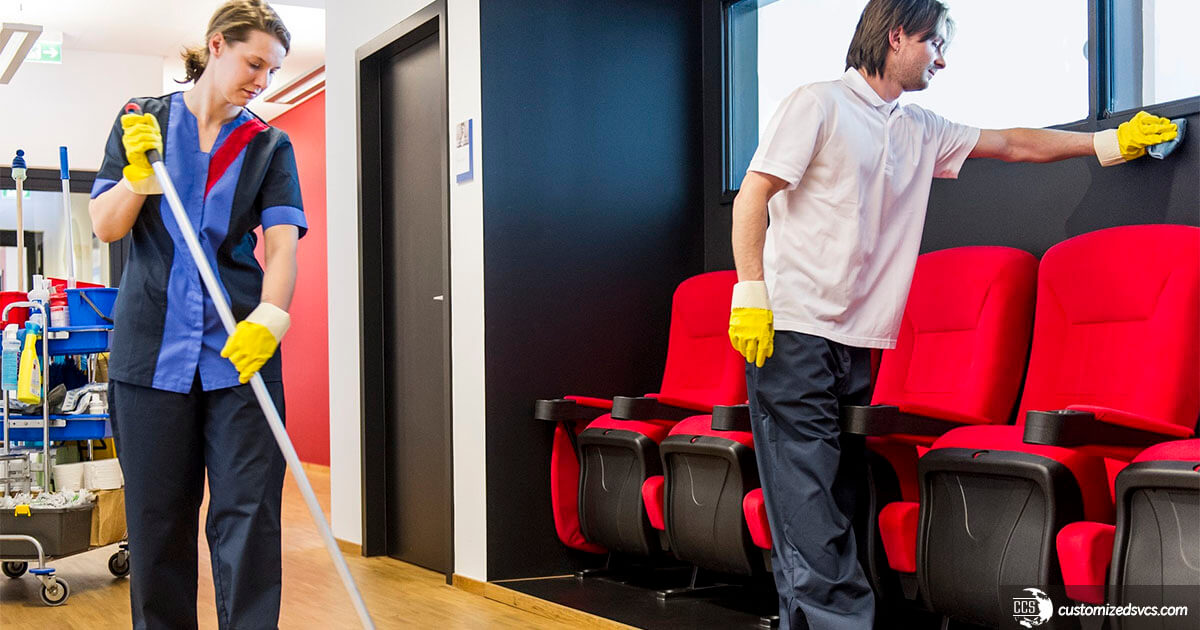 Ultimately, professional cleaning services from Customized Custodial Services Bakersfield cleaners provides a healthier office environment. Many times this leads to happier and more productive employees. When seasons change, it's an ideal time to rejuvenate your office space.
With this in mind, let's discuss five areas of your business that will benefit from our professional cleaning services in Bakersfield.
Professional Cleaning Services Areas Bakersfield
Surface Cleaning
Hard Flooring
Carpet Cleaning
Dusting
Window Washing
1.

Surface Cleaning

Our professional cleaning services in Bakersfield uses specialized techniques and products. These elements provide extraordinary results for office cleaning. In addition to eliminating bacteria, this service also get rids of lingering germs. Particularly for heavily trafficked areas and high touch points. Keeping bacteria and germs at bay is important for reducing employee time throughout the year.
2.

Hard Flooring

Preparing your business for summer season include having your hard surface floors commercially cleaned. Unlike the winter months, during summer, employees spend lots of time outdoors. This increases the chance of introducing contaminants into your facility.

Warm weather also means an increase in foot traffic for your business. Commercial floor stripping and waxing gives your floors a new life. Obviously, this protects your floor surfaces. But it also help your business make a great impression. Additionally, your floors are prepared for the upcoming winter.

However, you don't have to wait until your floors are unrecognizable with filth before getting them serviced. Instead, consider our professional cleaning services in Bakersfield for floors whenever you notice dullness or dirt.
3.

Carpet Cleaning

Your carpets are significantly abused year round and they're a sponge for germs. People track all kinds of elements into the workplace such as dirt, sand, and grass. As a result, your work space is contaminated with bacteria and germs.

One of the ways to maintain a clean, healthy building is to clean your floors regularly. Professional carpet cleaning services give you a fresh start to the season. And it removes allergens, dust, and other elements sitting on your carpet. Deep cleaning carpets once a year is also recommended to keep them looking new and fresh. But sweeping, vacuuming or steaming on a daily basis help reduce germs as well.
4.

Dusting

Pollen, dander, dust, and other microorganisms multiply through the air. Consequently, it coats every surface and even settles in air conditioning and heating systems. As the cooler weather sets in, we start closing windows and doors. When this happens, air ventilation is reduced. The accumulation of these particles dramatically diminishes overall indoor air quality. And it may even contribute to an increase in allergies.

Having your HVAC system professionally cleaned reduces pollutants and protect your indoor air quality. Your workplace will be much healthier for employees as well as visitors.
5.

Window Washing

Windows are the first thing customers see when visiting your building. Thus, they should reflect well on your business. Commercial window cleaning not only control germs, but also prevent mold growth. While your windows need to be sparkling, window cleaning can be dangerous and should be done safely. Therefore, acquiring professional window cleaners to do the job is recommended.
Get Started With Professional Cleaning Services In Bakersfield
Whether you need one of our services or all of them, are dedicated and experienced team is up for the task. Our commercial equipment allows us to get the job done right the first time. Not only that, but we're also committed to delivering healthy, safe, and pristine clean workplaces.
Contact us today for a free estimate and facility walkthrough.