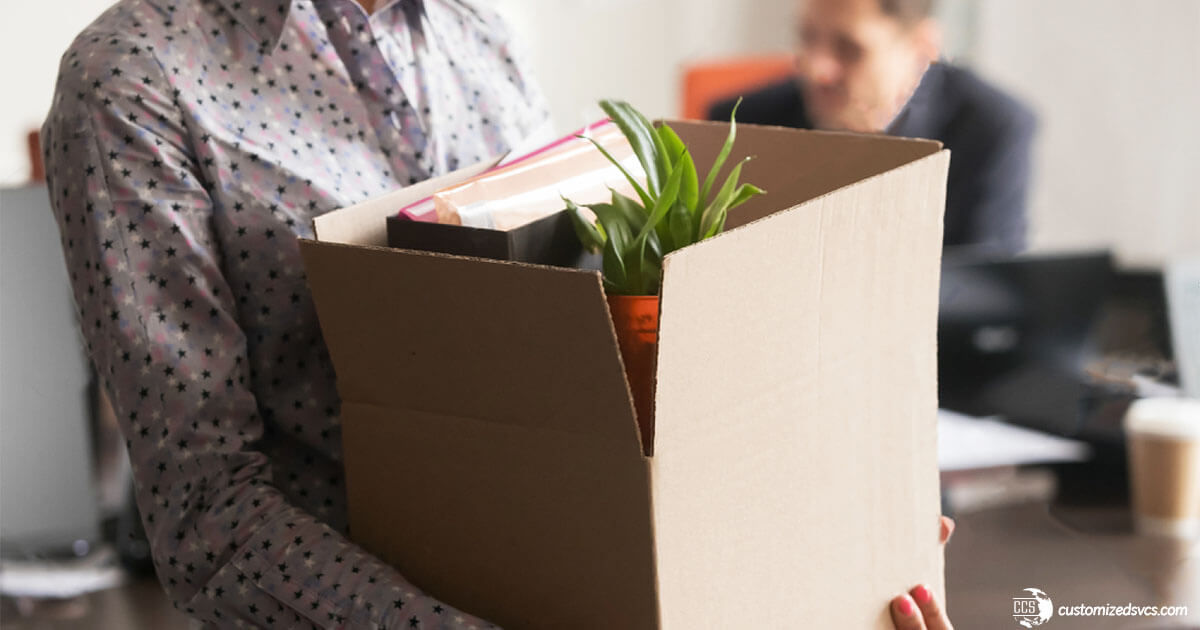 When it's time to move out of your office, there's a long list of tasks that need to be completed. In addition to packing for the movers, you'll also need to clean up for the next tenant.
Moving can seem as if it's never-ending. However, as hard as it may be, approach the task methodically to avoid prolonging the process even further.
To move out of your current office space can feel overwhelming. Particularly, when you think about the backbreaking process of moving everything to the new location. Not to mention, making sure you leave your present space spotlessly clean.
When You Move Out Of Your Office Space
If you're planning to relocate your commercial office space, you'll definitely want your deposit back. But in order to get that, the office must be left as clean or cleaner than before you moved in.
Whether you're using an office cleaning service or doing it yourself, one thing is a must – stay organized.
To help you with your next move, we've broken down the large tasks of cleaning into 5 simple steps. When it comes time to move out of your office, be sure to have this helpful resource at your finger tips.
01. Pack Up Everything Before You Clean
There are many tasks associated with moving out of your office and you definitely don't want to double the work. Many people mistakenly clean the office before they've fully moved out. As a result, cleaning while the move is still underway causes repetitive tasks. Consequently, frustration and feeling overwhelmed ensues.
It's with good reason why you should leave the deep cleaning until your office is completely empty. First, there's dust and debris constantly falling out of packing materials. And second, dust and dirt get kicked up from moving the furniture and equipment.
After the office is completely empty, you'll have a better view of the areas needing cleaning. Therefore, you can clean more efficiently while checking off your to-do list.
02. Designate a Specific Area for Your Packed Boxes
If possible, move your furniture, boxes, and equipment to your new office right away. But if there are time constraints between the move in and out, designate an area in your office for packed boxes.
By segregating relocation items from the regular office, things can remain organized and streamlined. This way, employees remaining at the current location can continue working while the move commences.
03. Clean From Top to Bottom
When you move out of your office, cleaning top to bottom is common practice. Remember, dust and other debris that get cleaned during the process will eventually finds their way to the floor.
Clean windows, high shelving, and ceilings first. Then, sweep, mop, and vacuuming. This process avoids having to repeat any work. Don't forge to make any needed repairs as you go.
04. Give Windows Special Care
Give special attention to the windows to ensure they are sparkling clean. After all, you don't want dirty windows taking attention away from your hard work. In addition to the glass, remember to thoroughly clean the window casings.
Using a cloth, vacuum, and window cleaner does an outstanding job in leaving your windows looking brand new.
05. Deal with the Bathrooms and Kitchen Last
Given that the bathroom and kitchen will likely be used until after the move, clean these areas last. In addition to being the most used spaces, they'll also require more attention during cleaning.
Additionally, property management will likely pay close attention to the restroom and kitchen areas. Given these points, make sure you put extra effort into addressing the little details in these rooms.
Begin in the kitchen by sweeping and wiping down all surface areas, again from top to bottom. Don't forget corners, top of the fridge, knobs, and switches. Give the floor a deep clean by mopping while making sure to get all the corners.
Once you have finished with the kitchen, move to the bathrooms. Scrub down the toilets and sinks, sweep and mop floors. And remove any smudges, water spots, or soap from the mirrors to give this space a sparkling finish.
Final Thoughts
If you've never moved out of an office before, you'll most likely underestimate the enormous tasks involved. It takes more time and energy than people realize to prepare a new office. Not to mention moving, packing, and wrapping up the cleaning in their former office.
Before you move out of your current office, consider hiring a commercial cleaning company. They're specialists at cleaning all types and sizes of spaces. Thus, allowing you to focus on the next stage of your business.
Customized Custodial Services expert commercial cleaners take care of all the cleaning processes for you. Contact us at (661) 829-6906 for a free quote.