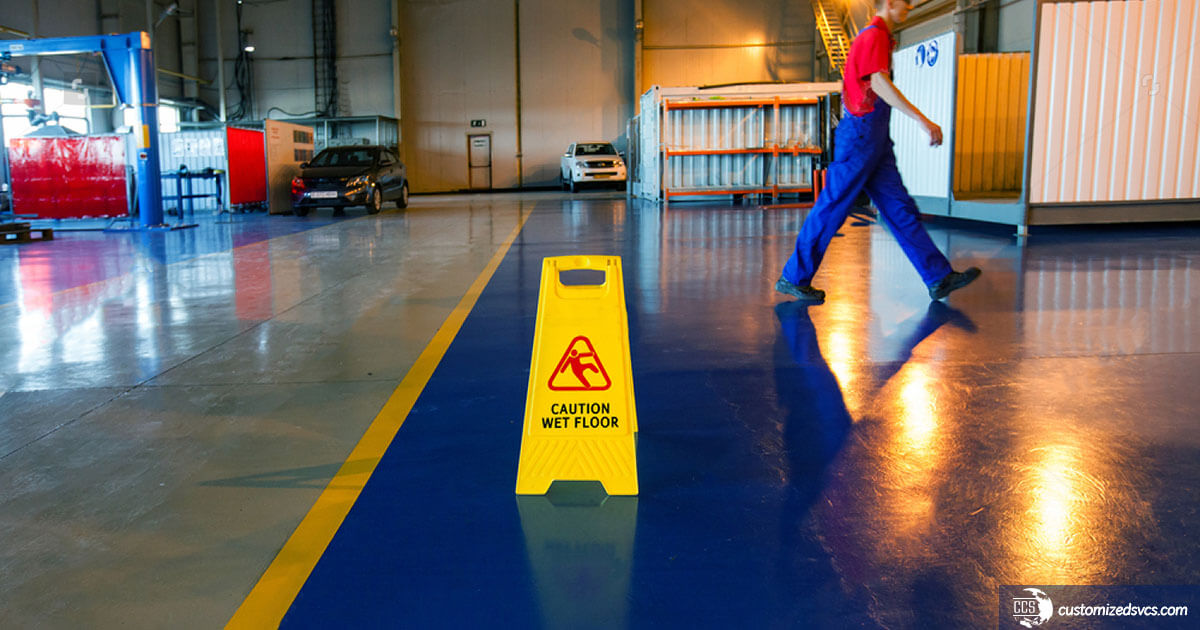 The importance of keeping a warehouse clean cannot be overstated. Just like keeping an office clean is essential for any business, warehouses are no different. These types of workspaces can get dusty, grimy, and dirty very quickly.
Generally speaking, facilities like these large and usually have high ceilings. Therefore, they are more likely to collect debris in difficult to reach areas. For this reason, adhering to a strict clean schedule is paramount.
By maintaining a regular cleaning schedule, you can prevent accumulation of debris and dust on equipment and products. Not only does this ensure operational efficiency, but it also prevents unnecessary downtime.
Importance of Keeping A Warehouse Clean
In addition to taking away from efficient operations, a dirty warehouse poses health risks for employees. And when there's excess clutter, tripping hazards are some of the dangers that compromises employee safety.
The importance of keeping a warehouse clean and uncluttered has many benefits. For instance, workers can more quickly find supplies and equipment which increases productivity. Also, maintaining more precise inventory levels are more accurate. In essence, a warehouse should be a risk-free and clean work zone.
Warehouse cleaning should focus on areas such as docks and receiving areas, floors, equipment, and all high traffic areas.
Let's discuss some of these in detail.
Difficult To Reach Areas
While difficult to reach areas in a warehouse are a common challenge, it's important to keep these areas clean. Shelving, windows, and ceilings are perfect places for dirt, dust, and residue to accumulate. And these particles will eventually fall to lower levels.
Use high-filtration vacuums and microfiber cloths to keep these areas free of debris and grime. Regular window cleaning should be performed as well.
Warehouse Floors
Facilities like warehouses have lots of activity on floors which makes it difficult to properly maintain them. Due to daily wear and tear, floor cleaning and maintenance should be a top priority.
Your cleaning service should keep your warehouse floors clean of spills, dirt, and marks. This can easily be accomplished by using large scrubber, mops, and sweeper machines.
They should have knowledge and experience in cleaning different floor types such as tile, concrete, carpet, and rubber.
Waste Management
Distribution and warehouse facilities operate on extended hours with high traffic and high volume. For this reason, removal of waste, garbage, and other recyclable materials is critical.
When waste such as cardboard and general trash build up around equipment, it creates a safety hazard for employees. It can also effect productivity by having to constantly maneuver these clutter.
Additionally, packing materials, cardboard, and paper are ideal homes for rats, cockroaches, and other pests. So these areas must be cleaned and sanitized on a regular basis. Otherwise, this may negatively impact the company's inventory in addition to productivity.
Warehouse Cleaning Services
Each warehouse or distribution facility has specific cleaning needs that relates to their type of business. When researching a cleaning service, choose one that will design a program specific to your cleaning needs.
Customized Custodial Services provides industrial cleaning services for spaces of every size and purpose. We also ensure the needs of your facility are at the core of our service plan.
Below is a brief summary of services we provide for your warehouse cleaning needs:
HVAC and ventilation cleaning
Power washing
Degreasing
Sweeping
Cleaning dirt and dust from rafters
Supply room cleaning
Floor cleaning and maintenance care
Detailed elevator cleaning
Office, bathroom, kitchen, break room cleaning
Ceiling and wall cleaning
General cleaning and janitorial services
To learn more about the importance of keeping a warehouse clean or to schedule an appointment, contact us today. We can help you get your warehouse clean, sanitized, and safe for your workers.